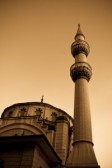 Omaha, NE. Barack Obama must be the most intrepid or the most incompetent politician ever to occupy the presidency.  He at any rate possesses a remarkable gift for provoking a majority of his fellow citizens in matters of great delicacy.  Most recently, by defending the "ground zero mosque" he has ignited a debate over the competing claims of religious liberty, on the one hand, and, on the other, sensitivity to the wounds left by the worst act of terrorism America has suffered.  Such is his fecundity that a busy public cannot always keep pace.  As a result, his most egregious provocations do not always receive the attention they merit.  Such is the case here, for in the debate over the president's remarks on the mosque other comments of his from last week have passed virtually unnoticed.  These largely unobserved remarks about the relationship of Islam to America, however, are not merely controversial but indefensible in their character, and not merely irritating but ominous in their significance.
On Wednesday, August 11, President Obama marked the commencement of Ramadan, the Islamic month of fasting, by issuing a statement.  After praising Islam as a source of wisdom and force for progress, the president added the following: "in the United States, Ramadan is a reminder that Islam has always been part of America and that American Muslims have made extraordinary contributions to our country."
This statement is not true in any meaningful sense.  If the president's "America" here signifies a mere geographic location and the people who have inhabited it, then of course Islam has not always been a part of it.  Islam was no part of the experience of the Native Americans who dwelt here before the arrival of European settlers.  The claim is no less transparently false if "America" is understood as a political community, the nation established by the men who threw off British imperial rule and who established the Constitution.  Those Americans were overwhelmingly protestant Christians.  Islam was no part of their America, except to the extent that they were aware of it as something they regarded as utterly alien.  If Islam was part of this early America, it was only by occupying a place on the periphery of the American mind, where it was largely regarded as a religion false in its claims and pernicious in its moral and political consequences.
In more recent years Islam has come to be a small part of the American experience: Muslims now make up less than one percent of the American population.  Thus one cannot seriously accept the president's claim that "American Muslims have made extraordinary contributions to our country."  An extraordinary contribution – need one say this? – must go beyond what is ordinary.  Yet Muslims clearly have not been part of America long enough in sufficiently significant numbers to make contributions that could equal those of Christians or even of a long-established minority such as America's Jewish population.  Perhaps one could here defend the president by claiming that he is referring to American Muslims as individuals, not as a group.  No doubt many individual American Muslims have in fact made extraordinary contributions to American society.  But if this was the president's meaning, then his statement is not a direct falsehood but a trivial truth about individual achievements deployed in such a way as to encourage a false conclusion about a group's social significance.
It would, moreover, be utterly incredible to claim that President Obama is unaware of the (rather elementary) historical facts sketched above.  The unavoidable conclusion is that he has chosen deliberately to promote a false account of the relationship between Islam and America.  What is the significance of this unhappy conclusion?
To begin with, lies are ordinarily to be condemned as incompatible with human dignity.  A lie, even one told with good intentions, is an attempt to manipulate and hence subordinate the person or persons to whom it is addressed.  This is why Muslims should be offended by President Obama's Ramadan message, even though he surely intends it as being in the service of a worthwhile end: improved relations between America and the Islamic world.  Better relations with Muslims is a worthy goal, and it is reasonable to believe that expressions of respect for Islam would serve this end.  Nevertheless, while President Obama may have intended to show respect for Muslims' religion, he also showed disrespect for their intelligence by asking them to accept an account of Islam in America that anyone can see is a historical fantasy.  Bad in itself, such an attempt at manipulation is likely to be bad in its consequences as well, since most human beings do not appreciate having their intelligence insulted even when they are being flattered.  Perhaps this is part of the reason why, after a year and a half of such fanciful rhetoric, public approval of President Obama in the Muslim world is lower than when he took office.
The president's statement on Ramadan, however, was not intended only for Muslim consumption.  As it was made in full view of the American people, it must be understood as directed to them as well.  Here the president's statement takes on an even more troubling aspect.  When one man lies to another, he implicitly denies the latter's dignity.  But when a political leader lies to his own constituents, he effectively denies their right to self-government.  Consent can be denied not only through force but also through fraud, and when statesmen lie to their people they try to impose conditions on them that they would not have willingly and knowingly accepted.  Political lies thus strike at one of the fundamental principles of American republicanism, government by consent.
Even these observations, however, do not capture the full evil of President Obama's statement on Ramadan, which possesses an aspect of tyranny and even totalitarianism.  The lie here in question is altogether more audacious than the typical political lie.  In the first place, when politicians resort to lies it is ordinarily with the expectation that they will be believed.  Such lies may dupe and injure their victims, but they corrupt only their perpetrators.  As Plato's Socrates observed, it is better to suffer injustice than to do it.  President Obama's false account of America and Islam, however, is so outlandish that we cannot seriously think that he expected it to be believed.  He seems rather to have expected merely that it would be accepted, that it would not be challenged, that his fellow citizens would be complicit in it with him.  The President appears to have concluded that some citizens would approve of his lie, and that others, intimidated by the prestige of his office or the censorious spirit of political correctness, would not dare to call him to account.  It is characteristic of the unscrupulous democratic politician that he thinks he can get away with lies in the sense that they will not be detected.  It is characteristic of the tyrant, however, that he thinks he can get away with lies in the sense that no one will contradict them even when his statements are transparently untrue.  And it is thus characteristic of tyranny that it corrupts not only the tyrant but also his subjects, who, through fear or moral unseriousness, go along with his falsehoods.
Moreover, the ordinary political lie concerns comparatively paltry matters: the effects of this or that public policy, the truth of some past episode that an officeholder finds embarrassing.  In contrast, President Obama's lie concerns the very origins, history, and character of the country that he claims to represent.  St. Thomas Aquinas famously observed that not even God could make the past to be other than what it was.  Twentieth century totalitarian regimes, however, certainly presumed to try.  Unable to change the past, they at least sought to change what was believed about the past by using their power to impose a false history on their subjects.  Such propaganda treats a nation, a people, not as an organic community with a real history that must be respected, and that rightly limits what it can become, but as mere material to be manipulated according to the aspirations of its leaders.  President Obama has said repeatedly that he aims to "transform" America.  In seeking to transform even its past he adopts some of the worst tactics of the worst governments of the last one hundred years.
As these reflections suggest, political efforts to shape beliefs about a nation's past are usually undertaken in order to control its future.  It is thus worth observing in conclusion that President Obama's claims about the historical relationship between Islam and America seem intended to settle preemptively a question that ought to be debated in the open: is Islam compatible with the free institutions to which Americans are accustomed and to whose preservation Americans should be committed?  The most generous of the reasonable responses to this important question is "we don't yet know."  A prudent people will want to weigh this important question with all the care that it deserves.  But a people that is serious about its freedom, to say nothing of its self-respect, will insist that the question not be avoided through the presidential assertion of a made-up history.
—
Carson Holloway is an Associate Professor of Political Science at the University of Nebraska at Omaha.  He is the author most recently ofThe Way of Life: John Paul II and the Challenge of Liberal Modernity (Baylor University Press).