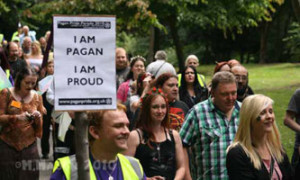 Radnor Township, PA
This past Friday, I led a lunch discussion with students at the University of Chicago who had read my First Things article  "Majoring in Fear." They verified that things at Chicago were pretty much as I had described.
One thing that surprised me to hear is that students receive career counseling from the beginning of their first year of study (which as far as I know was not the case when I taught undergrads there in the late 1990s). Not only does this continually reinforce anxiety about the student's future, but seems also to explicitly communicate the mostly implicit dogma of elite university education: that you will be a failure if you don't follow as prestigious a career as you can. One first year student told me he thought he would like to major in history and teach high school, but that his counselor had made it clear that this was aiming too low for someone with a Chicago degree. Forget vocation; be a super-achiever.
Students further along the process also recognize that some of this pressure for high-achieving is a way of cultivating their potential as future donors. One has to wonder whether this obvious instrumentalization of students is the best way to cultivate alumni affection. But then it is only the complement to the universities' instrumentalization of themselves as factories for successful job competitors.
All of this confirmed a realization that had occurred to me when preparing my short remarks for the lunch meeting: Students, when they enter the system of higher education or early in their experience of it, learn to distrust the system that is shaping them. Very likely this distrust has been taking shape during high school, consciously or not. This is a dimension of the appeal of The Hunger Games that had not entered my thoughts when I wrote about it in my article. The young people being trained for meaningless competition don't know whether they can trust any of the adults mentoring them, whose motives are tainted by the underlying moral squalor of the whole system.
This question of trust entered my mind when I was formulating remarks to the effect that higher education, meeting students when they are in their prime for asking questions, needs to be about helping them to formulate and pursue those questions – and that there is a natural and intelligible order to those questions. The example I used for illustrating an education of ordered questioning was the structure of the medieval university. Medieval university education began with philosophy, teaching students how to question and bringing them to encounter the basic questions that orient comprehensive inquiry. From there, students went on to reflect upon the natural world and the human place within it (Physick or Medicine), the world of human social and political relations (Jurisprudence or Law), and the ultimate orienting principle of human and natural existence, God (Sacred Doctrine or Theology). This education provided an orderly march through the ordering questions of all major areas of knowledge. (In our own way, Villanova's Humanities Department has replicated this structure.)
But of course this ordering and its rationale arose from a tradition of theological reflection and Christian doctrine. Students, who are never in a good position to judge an education before entering into it and being opened up and transformed by it, had to have trust in the system in order to submit themselves to its orderly program. They generally did have this trust, because they trusted the tradition that provided that order; and they had sufficient acquaintance with the ordering principles of that tradition (through a basic preparatory liberal education, Biblical knowledge and the lives of saints) to have some idea what governed the system they were submitting themselves to.
Students today have no such basic sense of what principles order the education they are planning to submit themselves to – unless they are students entering institutions affiliated with their religious traditions (and often not even then), or at a place like St. John's College, which is quite explicit about its non-utilitarian educational rationale. The only generally available rationale is the pursuit of power and money; and the humanities and social science disciplines their minds are formed by often teach them that this is what all human pursuits aim at (a message implicit as well in the technologically justified and patent-securing natural sciences and engineering).
It so happened that some of the students had, on the previous evening, attended a talk on campus by William Deresiewicz, author of Excellent Sheep: The Miseducation of the American Elite and the Way to a Meaningful Life. I read to the students a short passage in which Deresiewicz admits that, although he is not religious, he finds himself resorting to religious language as the only adequate description of the kind of transformation a real education should bring about:
"We might propose, then, that you should arrive at college as at the beginning of a pilgrimage—a movement toward the truth and toward the self. That you should come to seek conversion, though you know not yet to what belief or way. That you should approach ideas as instruments of salvation, driven by a need to work things through for yourself, so that you won't be damned to go through life at second hand, thinking other people's thoughts and dreaming other people's dreams. … We are born once…. But then if we are granted such grace, we are born again. For what does it profit a man if he gains the world and loses his mortal soul?"
As these adaptations of Biblical and Christian categories indicate, Deresiewicz's "Way to a Meaningful Life" is the way of Emerson and Thoreau, the vision that animated the New England liberal arts colleges that established the ideal of "finding yourself" and "discovering your own truth" as the alternative in America to traditional religious education or sheer utilitarian pragmatism. This Transcendentalism may be the biggest cultural swindle in history.
Why so? Because the very notion that makes the medieval founding of the university institution possible is the notion of the dignity of the human person as oriented toward God, not only "with all your heart and all your soul," but also "all your mind." In other words, as I have discussed in a previous post, the Christian understanding of the human is that of a person capable of communion with the personhood of God, the Creator of the order that the human person can seek to understand. The religious categories Deresiewicz invokes are the categories of personhood articulated by the Christian tradition, categories constitutive of the original understanding of the person served by the university. Transcendentalism is the attempt to preserve this notion of personhood grounded in a vocation to the ultimate, while turning this ultimate into an impersonal Transcendent. By straining with all my might toward this Transcendent I will rise above conformist mediocrity and create myself as a unique self.
In short, this Transcendentalist individualism (the go-to position for American humanists like Deresiewicz and Andrew Delbanco), according to which I only trust myself (and Emerson and his Absolute, or Whitman and Divine Democracy), is a delusional attempt to preserve a sense of communion with something beyond myself while insuring that the demands it makes upon me only come from myself and my aspiration for self-elevation.
This, then, seems to be the civilizational story in which the current crisis of university education must be understood. The university is finally losing decisively its character as an institution designed to serve and cultivate the dignity of the human person, a character inhering in its Christian origins. It is becoming a pagan institution. Paganism does not recognize persons oriented to the Creator, but only a world of powers. Students are being asked to make the bargain of pagan idolatry: Pay obeisance and service to a greater power so as to partake in a share of its power. The university views students in pagan terms, as loci of the concentration and channeling of powers at large in the world. As it drifts in this direction, the university becomes more inhuman and dehumanizing. Finding no home for their personhood in the university, students fabricate a simulacrum of it on their own time through their semi-private virtual world of communication and entertainment technology.
The Transcendentalist fantasy, as Deresiewicz suggests, seeks to provide a sense of vocation. But a vocation is a call, and the Transcendentalist can only hear the call that comes from himself. In the end, Transcendentalism is just a more poetic and bombastic libertarianism, and generally goes against the taste of our more cynical and prosaic youth, who would rather take their libertarianism straight up from Ayn Rand (subsidized by the Koch Foundation). If the university as a place to cultivate the dignity of personhood and discern one's vocation is to survive, it will have to be preserved by Christian and Jewish institutions who know what they're up against and have the vision and courage to resist the tide of paganization.