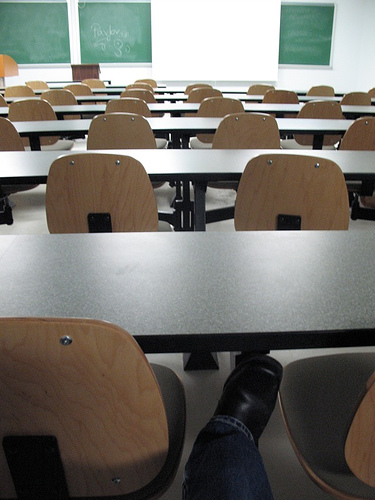 Claremont, CA. The New York Times has joined a host of other publications asking the question: Is college worth it? And again, just like every time I read an article that attempts to answer this question, I want to bang my head against a wall and weep.
Let me be clear: I understand the immediate impetus for asking this question. The economy seems unstable, people are worried about spending, and colleges cost money. In this economic environment it's not unsurprising that people are interrogating the value of college, just as they are interrogating the value of other things.
But what has me annoyed is that every time I've seen this question posed, people blather on and on about the relationship between a college education and future earnings. Usually we learn that yes, if you finish college you are likely to earn more money than someone who doesn't finish college. Whoo-hoo.
Now, I'd be the first to tell you that measuring the value of college in terms of future earnings is a dubious enterprise – an enterprise that one might even argue is anathema to the American liberal-arts tradition (which has its origins in what I know is the wacky idea that the purpose of education might be something a little less individualistic and materialistic, maybe even having something to do with the spirit or the soul).
But I'll even let all that dewey-eyed-feminine-soft-headed-head-in-the-clouds-clouded-by-the-ivory-tower stuff go for the moment. I'll concede that argument altogether. You want to measure college education in terms of future earnings? Fine. Measure the output of college in terms of money.
I'm willing to concede that point for the moment because it doesn't affect what's driving me mildly insane about all these interrogations of the value of college – and plenty of other people are talking about that anyway. Because what's driving me mildly insane about all these interrogations of the value of college is that none of them – none of them! – have had the common sense to suggest that money is not the only input into a college education, either.
The truth is that what you pay for a college education is only part of what you put into a college education, and arguably not the most important part. Call me crazy for saying this, but: how much you care about education matters, too. Like all teachers, I have students who pore over assignments and get inspired and take risks and attend extracurricular lectures and discover new skills and passions. I also have students who don't do that so much, despite all sorts of institutional and personal encouragements to do so. There are students, in other words, who really seem to embrace a spirit of education, students who are spirited about education. And in my experience, those students who put so much of themselves into college are the ones who come out of college with more internships and fellowships and professional school acceptances and – I have to throw something all mushy and unquantifiable in here – better senses of themselves and what they have to give other people and what it means to lead a good life.
I'm not saying this because I don't think college professors or administrators bear responsibility for what or how our students learn. We do. It's certainly true, for instance, that smaller class sizes provide more opportunities for students to learn how to articulate themselves. It's certainly true that giving students lots of writing assignments – and helping them to develop their ideas in writing – will at minimum enhance their communication skills. It's certainly true that treating campus service staff well demonstrates to students that all workers are worthy of respect. And it's certainly true that, as one of my colleagues has argued, having a vibrant arts presence on campus exposes students to the possibilities of harmony and dissonance and creativity, not to mention the value of practice and discipline. The list could go on to cover virtually every aspect of campus life; every decision we make as educators and administrators signals to our students what education is about, and how it should be pursued. We are all teaching, all the time.
So all colleges are not created alike, and similar price tags don't denote similarly fertile educational communities. That's something, too, that often gets left out of these commentaries about the value of college. But that strikes me as too obvious a point to belabor.
I'm saying this because I think it's worth reminding ourselves – in a culture where it seems like money is the only input that matters – education is something that can't merely be bought. (I emphasize the word "merely" because I am thinking of all the colleges in this country that are cutting programs and eliminating small classes because there is not enough money to pay for them.)
In the end, a college education is a process that requires an internal spirit as well as external structure — the old college try. Education is not a unidirectional enterprise; it's an enterprise that, as Socrates demonstrated, is fully realized in dialogue among people who commit themselves deeply to the conversation. It's our job as professors (and college adminstrators) to create conditions in which such dialogue can flourish, to practice what that old Greek guy called "the art of turning around" – the art of helping people to see the possibility of seeing more, and seeing differently. That is in some senses the entirety of our work, and it is a huge task.
But I also think we all have a broader social responsibility to remind ourselves and each other that education is not merely a consumer good, something that can be downloaded or implanted like so many silicone body parts. I worry that in all these contemporary calculations about the value of college, that truth gets pushed to the wayside. I worry that by doing this, we are, in subtle but definitive ways, encouraging our young people to be passive customers of life – not the visionaries or entrepreneurs I assume we want them to be. The more we neglect talking about the fact that education is about more than putting some money in for a diploma, the less students will know how to approach college in the first place. And the less they (and we all) will get out of it – in the tangible as well as in the intangible senses.