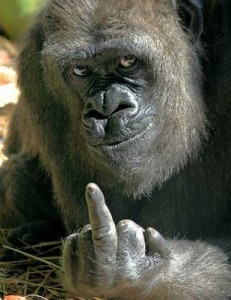 We spend so much breath, air time and ink exploring the differences between the Left and Right in America that too often we neglect those critical areas on which there is unquestioned agreement. And it's these areas in particular that deserve far more attention, since they reveal more than anything else the shared ends of our polity. The discrete debates, more often than not, are over means to achieving an implicitly shared end. If we were more reflective, we might raise questions about many of those ends.
We catch a glimpse at one of those shared ends in a column today by E.J. Dionne in the Washington Post, entitled "Biden, off message, and spot-on." The column discusses a recent interview with Biden, taking as its point of departure the unanimous applause that President Obama received during his State of the Union address when he stated "I do not accept second place for the United States." Such unanimous applause lines are often the most revealing.
E.J. perceptively notes that both the Right and Left in American politics agree with this aim – to keep America "number one." Where the disagreement lies – and much discrete policy debate arises – is the appropriate means of achieving that shared end:
For Republicans, American power is rooted largely in military might and showing a tough and resolute face to the world. They would rely on tax cuts as the one and only spur to economic growth.

Obama, Biden and the Democrats, on the other hand, believe that American power depends ultimately on the American economy, and that government has an essential role to play in fostering the next generation of growth.
Now, there may be some truth to this, as a matter of emphasis. But, truth be told, Left and Right alike depend substantially on a powerful economy and powerful military to maintain American preeminence. And notice that both means require an increase in the size and role of government, and that see-sawing party control of Administrations inevitably results in respective increases in government activity in the economy and military budgets, without either really decreasing the growth that the other had previously effected. While debates rage over the way in which the economy should be organized and the military deployed, there is no debate over the end. But – to ask a strange and perhaps discomfiting question – why is it necessary to be Number One?
Alexander Hamilton stated the reasons long ago: to avoid being pushed around by everyone else, and to get our way in the world to the advantage of those who would otherwise be taking advantage of us. A Machiavellian or Hobbesian world is posited: either one is getting ahead, or one is falling behind. Better to be the one getting ahead.
What goes unstated in this scenario are two interesting features: 1) This is a story of historical inevitability, in which the dynamics of history force a nation either to be on top or to be pushed around. It's interesting that those who most loudly declaim our "freedom" also make the argument that we have no real choice. 2) By being forced always to out-compete the competition, we're not actually in command. We are forced to make decisions that compel us into conditions of dependence and even fealty. One small example: to maintain our economic and military supremacy, Republican and Democratic leaders alike must ingratiate themselves to the King of Saudi Arabia. Our military is forced to occupy land and to engage in combat in places of strategic significance over which we have little choice.
Being "Number One" endlessly forces one – whether an individual, team, or nation – to seek negligible forms of advantage by whatever means necessary. We see its consequences in athletics all the time – the rife corruption of college sports, the pervasive doping among athletes, willingness to sacrifice athletic fodder for the sake of status and rank. We see its evidence in our colleges, where the race to maintain or gain position means sacrificing unique cultural identities in favor of conformity to a standard whereby "academic excellence" is judged in narrow terms, such as the amount of government funding for science projects or citations in leading academic journals (read, and readable, by almost no-one). We see its consequences among students on college campuses, where every subject and activity must be construed in terms that can be placed on a job application, and where cheating has become a norm at many institutions. We see it in the race to the bottom in the media, where to be Number One means to appeal to the basest instincts and the lowest common denominator. We saw it recently in our financial industry, where the race to stay ahead meant to embrace the deepest forms of corruption and short-term thinking.
Does being "Number One" make us a better society – even a good society? Does it help to form good characters among the citizenry and in our families? It brings great power – as well as great dependence – but thrusts us in the scramble for power after power that ceaseth only in death, and finally becomes an object for its own sake, and for no better end than being Number One. And that life – as Hobbes once eloquently described – is solitary, nasty, brutish, and short.